Locals Make a Paw-sitive Impact
Alix Bolinger-Perret and Lynnette Hathaway
Wednesday, February 12, 2020
With the goal of reducing the number of sick and stray animals in the community, the mother-daughter team of Laura and Maddie Johnson have teamed up to fight this crisis in Sweet Grass County.
Laura and Maddie have a huge soft spot in their heart for animals in need. This is why the mother-daughter team founded the Sweet Grass Animal Coalition, a non-profit organization in hopes of eliminating the overpopulation of homeless animals in Montana.
In the past two years, Maddie has fostered over eighty animals from Stafford Animal Shelter in Livingston, MT and she continues to foster. It doesn't stop there however, Maddie says "my goal is to decrease the number of animals entering shelters by educating the community, offering trap/neuter/release programs and holding low-cost spay/neuter/vaccination clinics." Her love for animals and her plan to become a vet motivated Maddie to foster, volunteer and truly want to make a difference for these pets.
Currently, the Sweet Grass Animal Coalition is holding a fundraiser that ends this week on February 13th. The non-profit organization has put together two raffle baskets one for dogs and one for cats. Raffle tickets are available for purchase at the Firehouse Gym or you can contact the Sweet Grass Animal Coalition line at (406)931-0135. The proceeds from these baskets will go directly into their spay/neuter/vaccination program.
The non-profit is also holding a launch party at the Circle T Taproom, Thursday, February 13th from 5:00 - 7:00 pm. During the launch party, Laura, Maddie, and Stafford Animal shelter will educate people about the overpopulation crisis in our community, how people can help. They plan to explain the organization's mission, goals and really get the word out there so more people can help support the animals.
Laura and Maddie strongly encourage others to volunteer at their local shelters. They believe it is important for people to see how many animals pass through shelters. Laura explains that people don't understand the importance of spaying and neutering their animals, which causes an increase in the animal population. So many of these animals are unwanted or people cannot afford to care from them, so they wind up on the street or in shelters.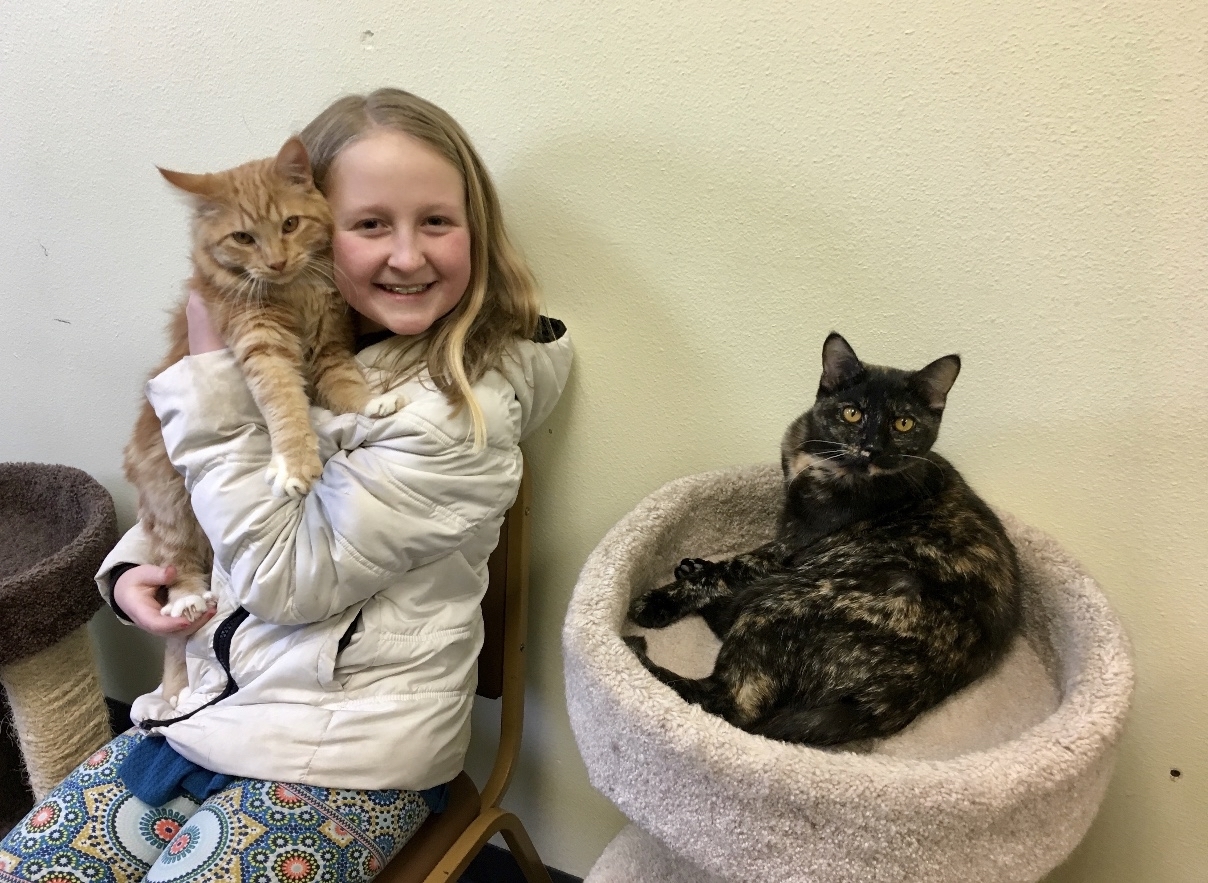 Above picture of Maddie Johnson and cats. Photo Courtesy of Laura Johnson