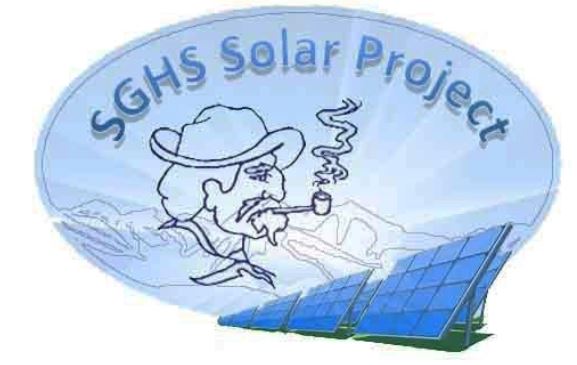 The SGHS Solar Project is under way and you are invited to our energizing party to be held at a future date! Harvest Solar, a qualified Northwestern Energy solar company from Bozeman, is currently installing our 50 Kilowatt array!
We are so excited to see this project come to life! Harvest Solar from Bozeman is doing a fantastic job and is even, at no extra cost, giving us improvements to the design with added capacity for potential future expansion of the system. For the SGHS Solar Project, Harvest Solar is installing 134 solar panels in an array on a ground mount on the south side of the school facing the interstate. Swing by through the high school parking lot to view the array or look as you drive by on the interstate!
The array will produce enough energy to offset 26% of the high school's electricity use and save the school $5,000 annually on energy bills! The panels are warrantied for 25 years (we expect that the panels should last for 50 years) which will bring a total lifetime benefit of over $200,000. The goal is to reduce the operating costs at Sweet Grass County high school and invest more into the education of our students! This array will help us be more competitive!
To view our full project photo gallery, please follow this link! Solar Project Photo Gallery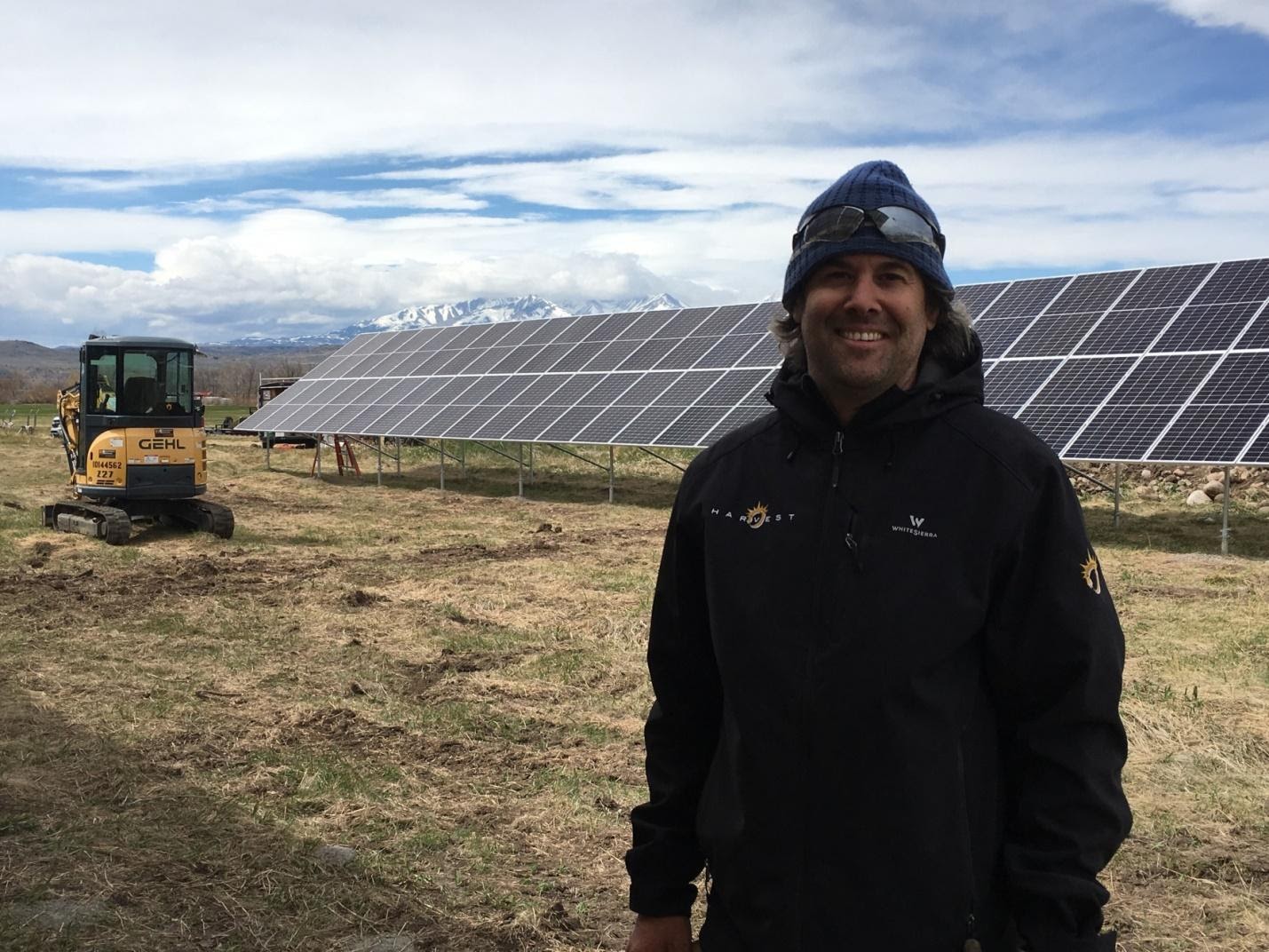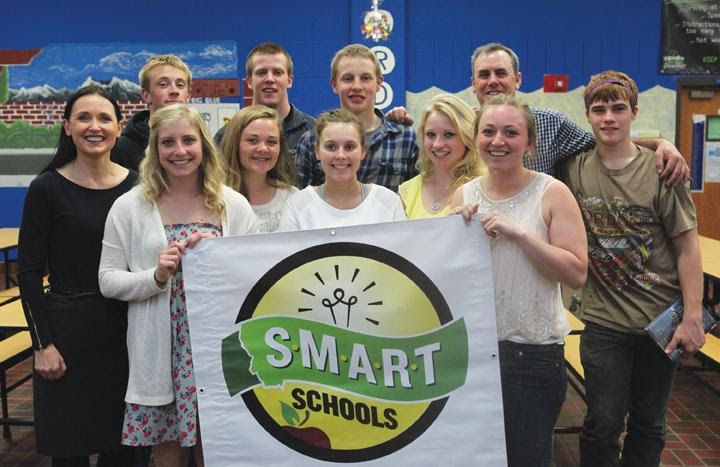 This project has been entered into the Saving Money and Resources Today (SMART) Montana Governors Energy Challenge!
Students at SGHS have won the Governors SMART Schools Energy Challenge 4 of the 5 years. Each winning year SGHS has won $1,000 which has been re-invested in energy savings projects like high performance LED lighting! Thanks to John Baxter, 2019 student council president, for his efforts in promoting the solar project in 2019! Thanks to the Governors SMART Schools Program for your support! Currently our high school is down 50% on our electrical consumption while with increased performance and productivity. (See energy saving measures at SGHS)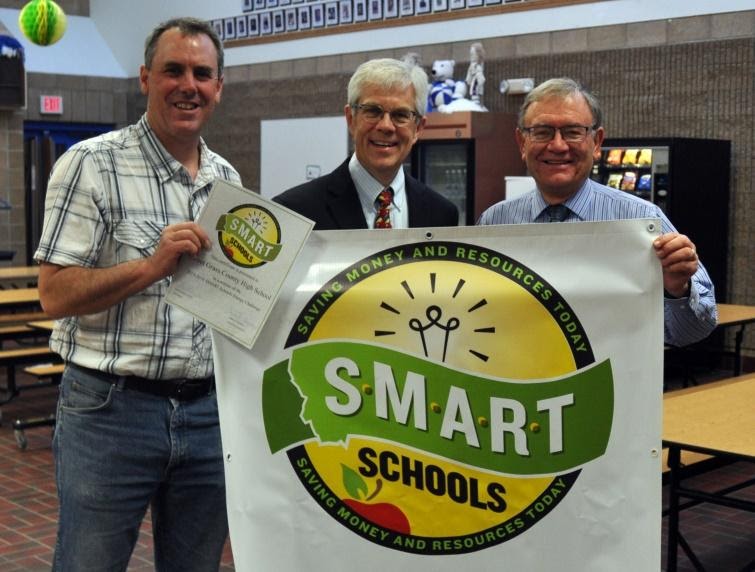 The graph below compares monthly expected solar power generation to the high school electrical use in kilowatt hours. As you can see, the blue consumption does not cross the red production curve, thus all of the power generated from our solar array will be used at the high school!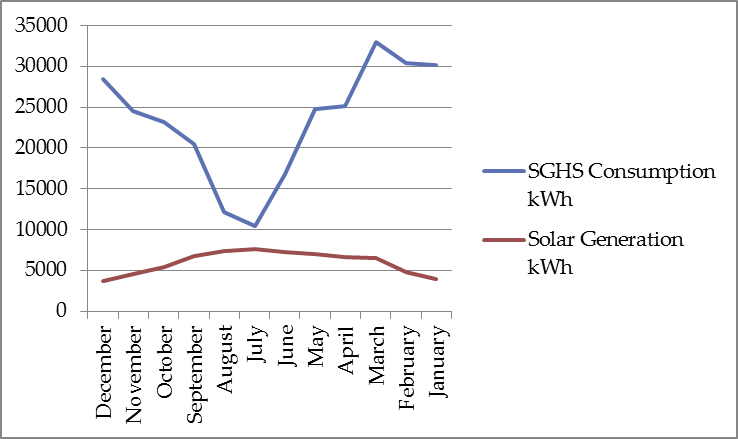 A BIG THANK YOU TO OUR SPONSORS!
NorthWestern Energy
Sweet Grass Community Foundation
Cottonwood Resource Council
Con-Edison Energy Corporation
Sweet Grass County High School Board
Community Thrift Shop
Mimi Cremer and Kathy Jones
Francis and Sandi Blake
Betsy Baxter
Joseph and Joan Hansen
Suzanne Wilson
David Grusin and Nan Newton
Tom and Sally Still
George Anderson, Big Timber Flyfishing
Sam Spector
Bobbi Carricker
Chip and Melanie Roe
Ron and Sandy Thomas
John and Deanna Novotny
Betty Roe
Sox Ullman
Jodey Dance
Teresa Erickson
Ted and Karen Herman
Butch and Joan Schwers
Jacque and Billy Scott
Jan Counter
Roberta Kelley
A special thanks to Corry Seitz and Jodey Dance of the Sweet Grass Community Foundation for their fantastic help with fundraising. Big Thanks goes to Mikindra Morin and members of the Cottonwood Resource Council Betsy Baxter, Teri Schlabach, Sandi and Francis Blake, Cindy Webber, and Jerry Iverson, and all of the Council members, Richard Parker energy manager for all of Bozeman school district, David LeMieux from the state DEQ energy department, Superintendent Mr. Brad Moore, Principal Mr. Eric Gustafson, former Superintendent Al Buerkle, 2019 student council president and SAVY and SMART Schools member John Baxter, the former SMART Schools club students, Sweet Grass County Superintendent of Schools Susan Metcalf, the Big Timber City Council, Lana King from the city planning office, the Big Timber Womens Club, Sweet Grass County Commissioners, Northern Plains Resource Council, Robyn Boyle of MT DEQ, The Big Timber FFA program, and Lt. Governor Mike Cooney for their support. Thanks to former board member Cookie Agnew for your encouragement! Thanks to the generous donations from our community and the USB Grant from Northwestern Energy!!
-Sam Spector