Woodden Memorial Tournament it Red Lodge Friday December 8th & Saturday December 9th.
Winter Sports Photos: Wednesday November 29th. Please see link attached for picture form.
https://5il.co/29nl5
Attention to anyone interested in learning how to make Chinese cuisine. The Adult Ed class for this Saturday has been changed to December 9th. Please call or stop in to sign up at the High School.
Money Drive. National Honor Society is collecting money for the food bank! November 15-21, 2023. Donation jars are located at the SGHS office. The class that collects the most money earns $200 for their class. Hat Day this Friday, Nov. 17th. Pay the office $1 and wear your hat all day.
Adult Ed: Starting this week Saturday November 18th from 10am to 2pm. Learn to make some yummy Chinese Appetizers. This class is limited ad will cost $10 for supplies. If interested please call the Sweet Grass County High School.
REMINDER: Winter Sports Meeting for SGHS Students today Monday November 13th at 6pm. Boys Basketball will meet in the Gym, Girls Basketball will meet in the Cafeteria, Wrestling will meet in the Library and Cheer will meet in the Boardroom. See you there.
Reminder: Parent Teacher Conference are today starting at two until six p.m. Please come visit our teachers and pick up your students report cards at the front office. Hope to see you soon.
WINTER SPORTS MEETING: Monday November 13th at 6pm Sweet Grass High School. Boys Basketball will meet in the Gym, Girls Basketball will meet in the Cafeteria, Wrestling will meet in Library and Cheer will meet in the Board room. Any student wanting to participate should be there along with a parent or guardian.
Parent Teacher Conferences @ Sweet Grass County High School
Couple of Changes for Adult Ed. The Pickleball class hours have changed to 2pm-4pm on Tuesdays. And a last minute class was added. Please call or send in your slip if you would like to attend any of the classes. Classes are also on the sgchs.com Class #8 Ceramics: Instructor: Salena Spees Date: Starting Thursday Nov. 28th, Dec 5th, 122th, 19th & pickup on the 21st. Times: 6pm-9pm Location: SGHS Art Room Class Description: This class is meant for adults who are interested in learning the basics of sculpting, slab, and wheel throwing. This will be an introduction course, learning to throw a mug or bowl on the wheel, create a decorative slab tray, and sculpt a holiday sculpture. This class is limited to 10 people. Class will be $50 for supplies Class one (3 hours)- Throw 2 items Class two (3 hours)- Sculpt and slab and trim Class three (3 Hours)- Finish/Start glazing Class Four ( 3 hours)- Glaze Pick up
Lady Herders lost in the 4th. You had a great season keep your heads up.
3rd set Herders fought hard and lost 25-14. 4th set here come the Herders!
Lost first set and won 2nd set 25-19. Let's go HERDERS!!!
Updated Bracket. Our Lady Herders Play Red Lodge Friday Oct 27th at 10am.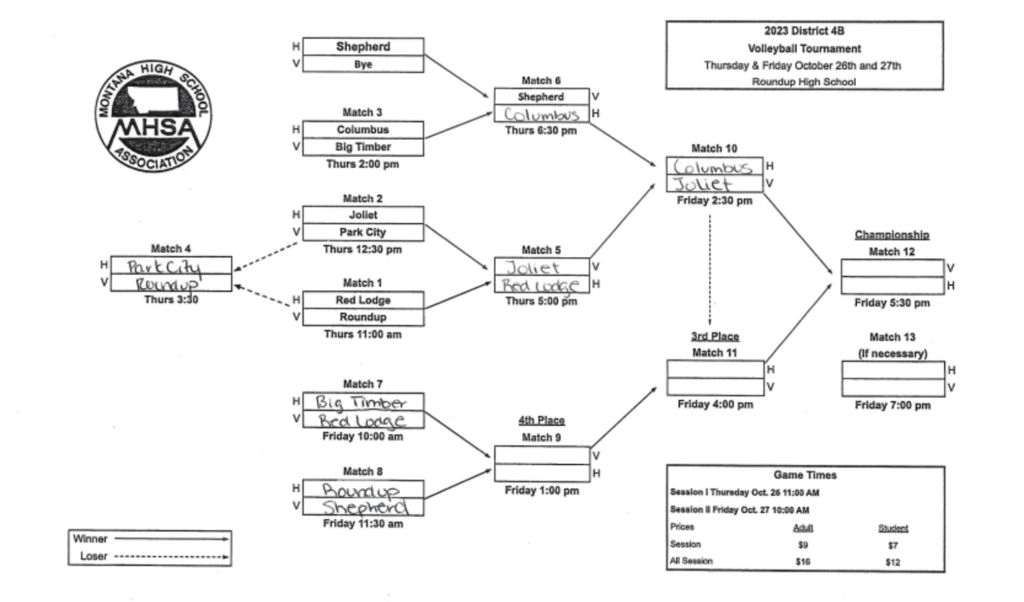 To All kiddos riding the Pep bus to Roundup for Friday's October 27th's Volleyball games. Please be to the High School by 5:45am at the latest. The Bus will be leaving at 6am sharp. Let's cheer on our Lady Herders.
Tough game but the Herders came up short.
Herders lost 1st set, but we are fighting hard in the 2nd set.
Volleyball District 4B Brackets
Come one, Come all...